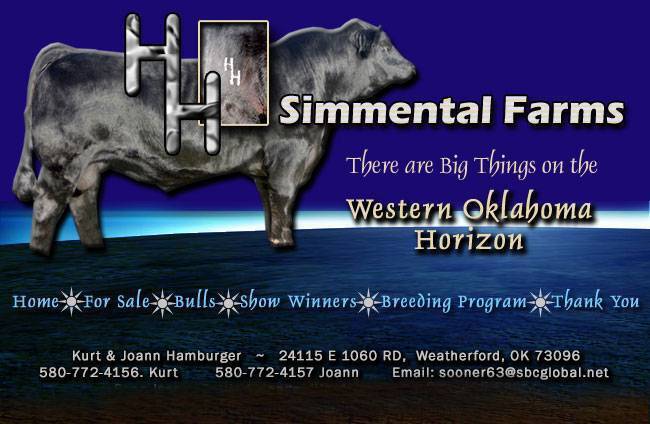 ---
Limited Semen Packages Are Available For 2021 From Owners
Contact us for your last minute Bull purchases,
Red and Solid Black Simmental and SimmPlus Bulls still available.
---
Simm Plus Ô
Simm Plus Ô is the term we have developed at H & H to identify the use of Simmental genetics to produce the most efficient F1 offspring to the beef industry. Our goal is that through the use of Simmental genetics, with breeds such as Maine-Anjou, Red Angus, Black Angus, we can produce a quick growing, feed efficient, highly marketable animal that will add dollar$ to your bottom line. While still maintaining an eye appealing and functional package, with longevity, that will work in any environment with less input costs.
---
---
Our mission in the beef production business is to produce sound, functional, phenotypically correct as well as genetically superior cattle through the use of embryo transfer and the use of the best A.I. sires. Our females and bulls are bred and raised to survive any environment in the country and make useful profit-making individuals in the production of beef.
---
"Gabbie"


Gabbie helping get ears on sale pic day.

"Oakley"
Our newest member to the Farm!

---
Kurt & Joann Hamburger

24115 E 1060 RD, Weatherford, OK 73096
580-772-4156. Kurt | 580-772-4157 Joann
Email: sooner63@sbcglobal.net
---
Breeding Cattle Page | Show Cattle Page | Cattle Sale Page
Designed by EDJE Technologies, Inc.