Upcoming Sales


Yearling Bulls Private Treaty
April 7th, 2018

NEW listing for the bulls for sale!
On our sale page.




---
We are having intermittent phone problems. If you cannot reach us at
515-379-1499, please email us at fmb@ncn.net and we will return your call.
Thank you!
Welcome . . .
We have been breeding purebred Red Angus since 1971 and Simmental since 1970. Our first Red Angus A.I. sires were Chocataw Chief 373, Burke 787, Ankonian Dynamo, and then the outcross black PowerPlay. Our first Simmental A.I. sires were Petunia, Florian, then Galant and Signal. We have used A.I. each year trying to find the best of the breeds. We don't go to extremes; we believe in balance. We also believe performance is the essential ingredient and have done performance testing since the beginning. Our first sale 47 years ago gave 205 weight, Daily Gain, 365 weight, and Ratio. Look what information we have now.
Annual Yearling Bull Sale
Private Treaty April 7th
Greetings to our friends in cattle production.   After the last few months of wild weather shifts, hopefully spring is coming to stay.  Bring on the warm sun and green pastures!
On Saturday, April 7, we will have an Opening Day Private Treaty Sale on the yearling bulls here at the farm using a silent auction format.  The bulls can be viewed after 10 AM that day, with final bids taken at noon. In the event you are unable to attend, bids can be left earlier at 515-379-1499.  There will be a $50 discount applied to bulls picked up the day of the sale.
The catalog is arranged in a two-line entry format.  When reading the listing, the heading in bold matches the data in bold, etc.  Under each EPD is the percentile which explains how this bull ranks within the breed.  For example, a 25% under birth wt. means this bull is in the top 25% of all reg. Red Angus bulls of this age group.
Both the Red Angus and Simmental breed associations have change to a new program for calculating EPDs.  This allows for more frequent updates, resulting in numbers that may have changed from when our catalog was developed.  The most recent EPDs may be found by looking up a bull's entry in their registry.  Registration numbers for each bull are listed, and we encourage you to visit either the Red Angus Association of America (www.redangus.org), or the American Simmental Association (www.simmental.org, www.herdbook.org) to find further pedigree information as well as performance ratios and data found under the Expanded Report selection at the bottom of the page.
Francis, Karol, and Cindy
Employment Opportunity:  We are always looking for full-time and flexible part-time help.  If you or someone you know is interested in working in the cow-calf sector or getting into cattle production, please let us know.



15D - April 7, 2018
FMB Iron Mountain 33A, a Catagory 2 Red Angus. He is doing a good job at Windy Ridge Red Angus down in Missouri. His best score is Marbling at top 1% of the breed. And Gridmaster at 9%.
FMB Conqueror 15D, a purebred Red Angus. We are very pleased with his EPD stats. He is in the top 1% on Gridmaster, Weaning Weight, Yearling Weight, and top 7% on Marbling. His actual birth weight was 79 pounds, weaning EPD at 92, and yearling EPD at 160, 920 and 1604 actual pounds respectively.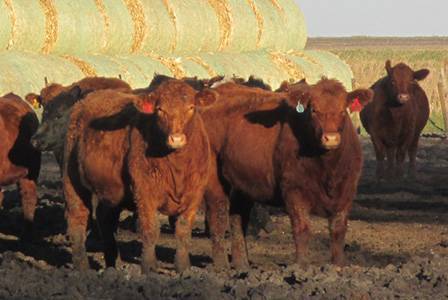 First photo is two bred crossbred heifers that were for sale in 2016 and second photo were Bred Heifers for spring Calving.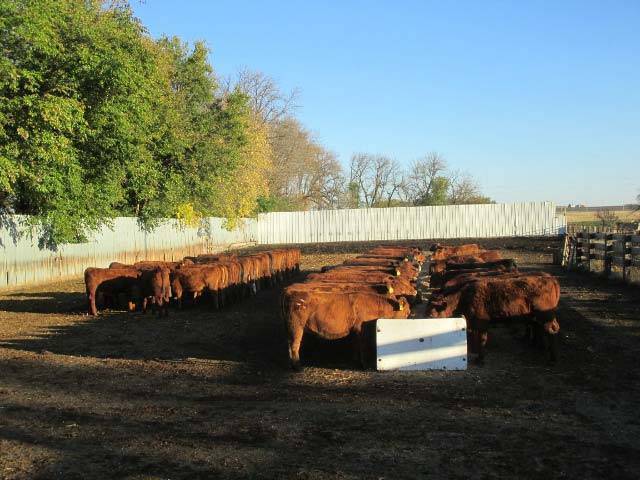 Simmental cow with her heifer calf in July. The group is breakfast for the heifer calves in their winter quarters.


Thank You,
We would like to thank everyone for coming, and purchasing our cattle. So many of you are coming back year after year for our cattle and we appreciate your confidence in them. We have enjoyed the cattle breeding end of the business and try to find the best combination of genetics we can. Thank you everyone.

Francis , Karol, and Cindy
Private treaty at the farm.


We have 47 years of AI to the top bulls of the Red Angus and Simmental breeds, with emphasis on balanced traits. We have included genomic enhanced EPDs on these bulls. Visitors always welcome.